Menucha Kedjiwaan Gathering 2022
Description
Subud Pacific NW 2022 Kedjiwaan Gathering at Menucha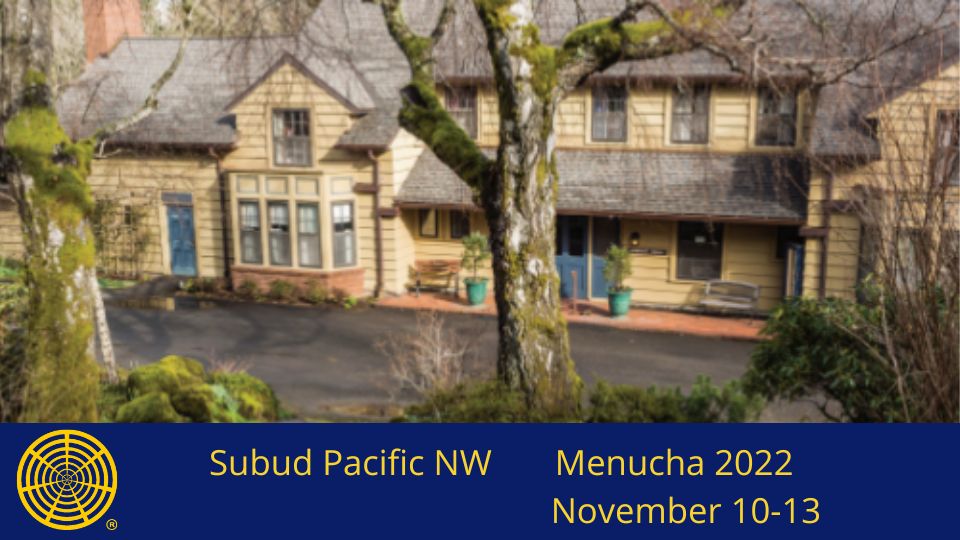 Our annual kedjiwaan retreat at the beautiful Menucha Retreat and Conference Center is back! After a three-year pandemic-caused hiatus, our kedjiwaan retreat is back. Subud Pacific Northwest invites you to join us from Thursday thru Sunday, November 10-13. The setting is magnificent. The gathering one to refresh our connections with each other through fellowship and the grace of group latihans.
Please Note: This event is intended for adults only. It is not intended for children.
Are you ready to register now? Click here
For over 30 years Subud members have gathered at the Menucha Retreat and Conference Center above the breathtaking Columbia Gorge to participate in great latihans, insightful testing, inspiring conversations, fabulous entertainment, reflective solitude, and a welcome opportunity to take a break from the rigors of everyday life. Join us for this extraordinary weekend. You'll be glad you did!
What's new this year? Not much, really. Same basic schedule, activities, meals. We'll follow local guidelines for Covid protection. We are committed to providing safe spaces that all can be comfortable with.
Rates from the conference center did increase, but we have worked hard to keep them reasonable for an all-inclusive stay at such a storied venue. Click here to see the rates for this year's event.
We've budgeted for 65 people, if we can get 20 extra our Chair is lobbying to give a small rebate during the event (so gently cajole your friends and family!).
If you are staying in the Barn or Wright Hall, please be sure that you either order the linen package or bring your own linens, towels and blanket. All other accommodations include linens and towels. If you register and do not specify a roommate, one will be assigned to you.
Donations Please! As in past years events, we are anticipating that there will be some needing assistance. In order to help these members, we've created an opportunity for you to contribute to this fund. When you register, please consider making a donation to the Assistance Fund so that those who need assistance can share this wonderful weekend with us.
NOTES:
All registrations (including day passes) must be purchased by October 15 and be paid in full at the time of registration.
All prices quoted are per person, but you may register up to 4 people at one time.
Cancellation Policy: Registrations may be cancelled until October 15 with a full refund less a $50 administrative fee. After October 15, no refunds will be made unless your room/day pass is resold to another registrant, in which case a refund will be issued minus a $50 administrative fee. ($40 for day pass refunds)
Questions about the event and financial aid inquiries can be made at menucharegistrarATgmail.com